The Fall of Rogue Gerrard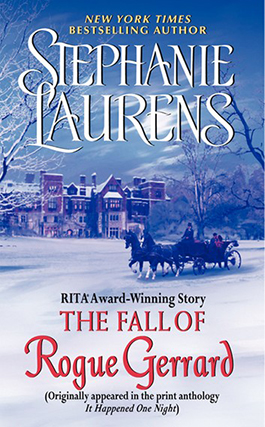 Originally published in the anthology IT HAPPENED ONE NIGHT
First published by Avon Books in 2008
ISBN 978-0-06-135416-8
THE FALL OF ROGUE GERRARD novella re-issued as a stand-alone e-book in December, 2011
Available globally in all e-book formats.
There is no print edition of the stand-alone novella.
For this anthology the theme was a hero and heroine who hadn't met for at least ten years, who unexpectedly found themselves stranded at an inn for one night.
Robert "Rogue" Gerrard is one of London's most notorious rakes. But, long ago, throughout their shared childhoods, he'd styled himself as Lydia Makepeace's protector...but then they grew up, and, after their first and only kiss - Ro ran. That was ten years ago and he hasn't seen Lydia since. Now, however, taking refuge in a country inn due to a downpour, Ro discovers Lydia there - alone - and up to something. She's unmarried, without a chaperone - and indulging in secret forays....what is she about? Old habits die hard, and Ro has never forgotten what she meant to him...and then he discovers she still is all and the world to him. But he's older now, and this time he doesn't run.
Stephanie was honored with the prestigious RITA® Award for Best Romance Novella 2008 by Romance Writers of America®, for THE FALL OF ROGUE GERRARD.
---
As an Amazon Associate I earn from qualifying purchases.