The Cynster Sisters Duo
Two Cynster girls remained hanging unwed on the family tree...
But The Lady had plans for them both.
At the end of THE CAPTURE OF THE EARL OF GLENCRAE, the last book of the Cynster Sisters Trilogy, the necklace gifted to the Cynster girls by the Scottish deity, The Lady, to assist them in finding their true heros, the gentleman for each who will sweep them off their feet and into love and wedded bliss, was duly passed on to Henrietta Cynster.
Sadly, Henrietta does not believe that love will find her, and so she puts away the necklace and doesn't believe...but her bossy little sister Mary decides her time has come, but Henrietta has to marry first, so Mary insists Henrietta must wear the necklace regardless, and Mary is well-nigh impossible to deny.
And so starts the tale of how the last Cynster girls of their generation find the gentlemen with whom they are destined to share their lives.
To read more click on the following links to my Interview on each book.
INTERVIEW ON AND THEN SHE FELL
INTERVIEW ON THE TAMING OF RYDER CAVANAUGH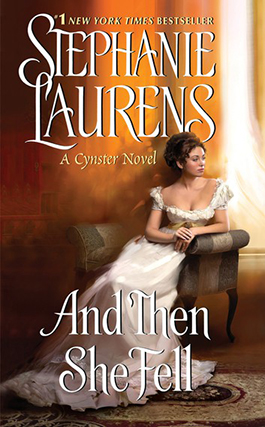 As an Amazon Associate I earn from qualifying purchases.