Scandalous Lord Dere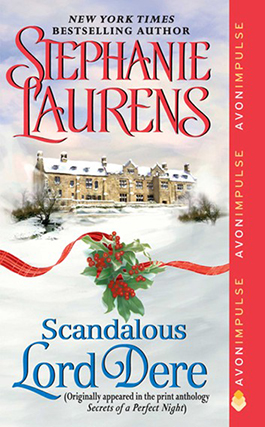 Originally published in anthology SECRETS OF A PERFECT NIGHT.
First published by Avon Books 2000
ISBN 978-0-380-81805-1
SCANDALOUS LORD DERE novella re-issued as a stand-alone e-book October, 2011.
There is no print edition of the stand-alone novella
For this anthology the theme was New Year's Eve balls.
After a New Year's Eve ball, Adrian Hawsley, Viscount Dere, swears off women and sets out in his curricle for his abandoned ancestral home on Dartmoor determined to take stock of his life. But a vicious snowstorm lands him and his tiger in the snowdrifts. In order to survive, Adrian has to find shelter--battling through the storm, carrying his unconscious groom, he manages to reach Mallard Cottage. However, the lady who opens the door is not the old woman Adrian had expected - but the one lady he's never forgotten. Shocked to his marrow - and chilled to the bone - Adrian literally falls at Abigail Woolley's feet.
---
As an Amazon Associate I earn from qualifying purchases.