Tangled Reins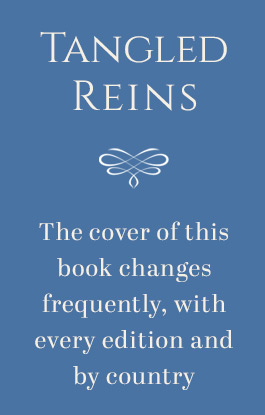 First published by Harlequin in 1992
This work remains under license to Harlequin, and goes in and out of print, or even e-book availability, but is frequently re-published or reissued in various forms, through various avenues, in various markets, at various times. Please note you may come across a publication that combines two or more of the original books, within the same volume, under a different title, or even combines one of Stephanie's books with works of other authors in a combined volume - again often with a different title.
The jacket blurb from the original UK edition:
"Miss Dorothea Darent had no intention of ever getting married, until a dashing stranger with hazel eyes kissed her under a tree. Haunted by their kiss, the Marquis of Hazelmere, a notorious rake, was determined to win Dorothea's heart, even while she was busy dazzling other bucks of the ton. Dorothea had a choice: stick with her plans to remain an independent spinster, or surrender to love."
Check your favorite on-line stores for print or e-book reissues.
"Delightfully compelling." Library Journal
---
As an Amazon Associate I earn from qualifying purchases.