The Time For Love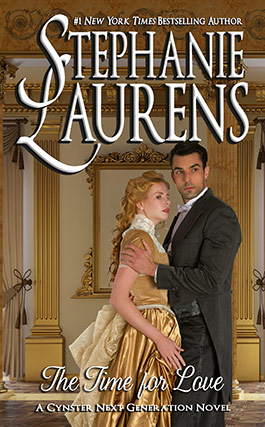 An original Cynster Next Generation Novel
Volume 11
Available in print and ebook formats
PRINT ISBN: 978-1-925559-54-5
E-BOOK ISBN: 978-1-925559-53-8
Release Date: August 18, 2022
#1 New York Times bestselling author Stephanie Laurens explores what happens when a gentleman intent on acquiring a business meets the unconventional lady-owner, only to discover that she is not the biggest or the most lethal hurdle they and the business face.
Martin Cynster arrives at Carmichael Steelworks set on acquiring the business as the jewel in his industrialist's crown, only to discover that the lady owner is not at all what he expected.
Miss Sophia Carmichael learned about steelmaking at her father's knee and, having inherited the major shareholding, sees no reason not to continue exactly as she is—running the steelworks and steadily becoming an expert in steel alloys. When Martin Cynster tracks her down, she has no option but to listen to his offer—until impending disaster on the steelworks floor interrupts.
Consequently, she tries to dismiss Martin, but he's persistent, and as he has now saved her life, gratitude compels her to hear him out. And day by day, as his understanding of her and the works grows, what he offers grows increasingly tempting, until a merger, both business-wise and personal, is very much on their cards.
But a series of ever-escalating incidents makes it clear someone else has an eye on the steelworks. The quest to learn who and why leads Martin and Sophy into ever greater danger as, layer by layer, they uncover a diabolical scheme that, ultimately, will drain the lifeblood not just from the steelworks but from the city of Sheffield as well.
A classic historical romance, incorporating adventure and intrigue, set in Sheffield. A Cynster Next Generation novel. A full-length historical romance of 100,000 words.
"Sophy Carmichael is expertly managing the family steelworks in Sheffield when businessman Martin Cynster comes calling with an offer to buy. His visit coincides with an attack on the plant, and when his and Sophy's lives are threatened, they join forces to find out who is plotting against Carmichael Steelworks. Fans of Regency romance with exceptionally strong female leads are sure to relish this tale." Angela M., Copy Editor, Red Adept Editing
"When Martin Cynster approaches Sophy Carmichael about buying Carmichael Steelworks, his life takes an unexpected turn. Fans of romance will enjoy this great story and its intriguing historical setting!" Kristina B., Proofreader, Red Adept Editing
"Martin Cynster is interested in buying Carmichael Steelworks, but quickly finds himself with more than just a business deal on his hands. He's intrigued by a series of suspicious accidents at the works and even more so by the company's majority shareholder, the astute, unconventional, and beautiful Sophia Carmichael. By the time the pair unmasks the culprit behind the sabotage, their entanglement has expanded beyond business to encompass some very personal pursuits indeed." Kim H., Proofreader, Red Adept Editing
---
As an Amazon Associate I earn from qualifying purchases.