The Wedding Planner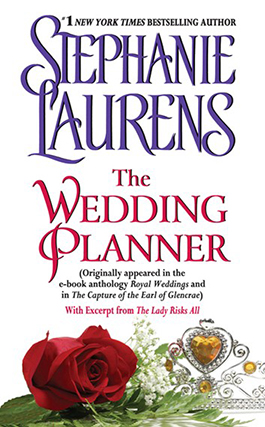 In addition to being a part of the e-only compilation ROYAL WEDDINGS, THE WEDDING PLANNER was also included in the back of Stephanie's novel, THE CAPTURE OF THE EARL OF GLENCRAE.
THE WEDDING PLANNER is now available as a stand-alone e-book in August 2012
Globally available in all e-book formats.
There is currently no print edition (other than the copy included in THE CAPTURE OF THE EARL OF GLENCRAE).
Originally published in a compliation of three short stories by 3 different authors, titled ROYAL WEDDINGS, inspired by the wedding of Prince William to Catherine Middleton.
Stephanie's short story in that collection was THE WEDDING PLANNER:
Lady Margaret Dawlish is proud to plan the ton's most prestigious nuptials--including that of a prince of the House of Bourbon. But it's Lady Margaret who falls in love...with the prince's chief groomsman, the dashing Gaston Devilliers.
"Clever, charming, and immensely entertaining, this well-timed trio of short stories perfectly capture the magical, fairy-tale flavor of happily-ever-after moments." Library Journal.
"Three delightful romantic novellas readers are sure to enjoy. I highly recommend this charming anthology." Romance Reviews Today
---
As an Amazon Associate I earn from qualifying purchases.