About Stephanie Laurens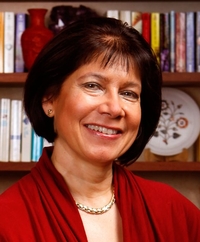 CONTACTS
Readers & Media:
stephanie @ stephanielaurens [dot] com
Rights Inquires:
via Nancy Yost at Nancy Yost Literary Agency
rights @ nyliterary [dot] com
#1 New York Times bestselling author Stephanie Laurens began writing romances as an escape from the dry world of professional science. Her hobby quickly became a career when her first novel was accepted for publication, and with entirely becoming alacrity, she gave up writing about facts in favor of writing fiction.
Laurens's novels are primarily set in the time period from the British Regency to early Victorian times, and her settings range from Scotland to India. Laurens has published over seventy works of historical romance, including 40 New York Times bestsellers. All her works are continuously available in print and digital formats in English worldwide, and have been translated into many other languages. An international bestseller, among other Stephanie's email contactsaccolades Laurens has received the Romance Writers of America prestigious RITA Award for Best Romance Novella 2008, for The Fall of Rogue Gerrard.
Her continuing novels featuring the Cynster family are widely regarded as classics of the genre. Other series include the Bastion Club Novels, Black Cobra Quartet, The Adventurers Quartet, The Cavanaughs, and the Casebook of Barnaby Adair series, and the Lady Osbaldestone's Christmas Chronicles, featuring a well-known grand dame from the Cynster novels.
Following is a brief autobiography of Stephanie's life before becoming a romance novelist:
My early life was not all that ordinary - I was born in Ceylon (now Sri Lanka) many years ago, at a time when the recently independent British colony still behaved socially very much like an outpost of the British Raj. So I know what "tiffin" is. It was a strange society - one that has now died - but I still remember snippets.
At age 5, my family upped stakes and moved permanently to Melbourne, Australia, where they've remained ever since. I did all my schooling in Melbourne, finished university with a Ph.D. in Biochemistry, then moved on, together with my husband, acquired along the way, to London.
Of course, we didn't just hop on a plane and fly. No. We took what proved to be one of the last true overland journeys from Katmandu to London - through northern India and the Ganges valley, up into Kashmir to laze on houseboats on the lake at Srinigar, then through Pakistan and on up the Khyber Pass into Afghanistan (pre-destruction). From Kabul, we continued west, across Iran (then still with the Shah), down to Isfahan, then up to the Caspian Sea, then all the way across Turkey to the ages-old fascination of Istanbul. I still have the most vivid memories of Afghanistan, Iran and Turkey - the most wonderfully dramatic and lonely scenery - places where Nature really impinged on your consciousness. After wandering across Europe, we eventually reached London, after what will undoubtedly rank as the journey of our lives.
In London, I took up a position as a research scientist - and my husband did, too. We lived in a lovely little cottage - a 16th century woodcutter's cottage, complete with 16th century tiles (you can tell by the wooden pegs that hold them on), built onto an oast house (those places with conical roofs where they used to dry hops), surrounded on all sides by the lush green fields of rural Kent. Of course, next door was the protected remains of a 1st century Roman villa, and down the lane was a 14th century castle, still owned by the original family. The main house was now mostly Queen Anne in style, but with some Tudor buildings still remaining.
We spent 4 wonderful years living in England, touring England, France, Spain, Portugal and northern Italy, entirely off the beaten track. Provincial France became a favorite haunt; Portugal was a different sort of paradise. On our return to Australia, we both continued on with scientific research - in my case, in the cancer research field. I remained in cancer research, rising through the ranks to heading my own laboratory...until fate took a hand.
I had read romances since I was 13 - when my mother borrowed Georgette Heyer's romances from a workmate, and I read them after her. These Old Shades was the first one I read - I was hooked for life. In England, I'd had the opportunity to stock up with Regency romances that were never available in the US or Australia - I still have shelves of them. After our return to Australia, one day I literally ran out of books to read. I wanted a new Regency romance - but there were none in the stores. In desperation, I decided to write one - something I'd always had a hankering to do, but never done.
So I did. I just sat down and wrote the story, writing at night and on weekends, primarily to entertain myself. To my surprise, being one of those people who always have craft projects lying around unfinished for years, I actually finished the book - mainly, I suspect, because I wanted to know the end. But there it was - and it didn't seem too bad. Perhaps....
That first manuscript became TANGLED REINS, my first romance - a British Regency romance published by Mills & Boon. Subsequently, I wrote 7 more Regency romances for Mills & Boon.
Somewhere along the line, I faced the fact that the life of a research scientist, certainly at the level I had now reached, had palled. Stress levels were too high. But I now had something else I could do - I could write romances.
So I "retired" from scientific life, to more relaxed and fulfilling endeavors, and at much the same time, crossed the Atlantic publishing-wise, and, after some uncertain times, eventually signed on with Avon.
The rest, as they say, is history!
Stephanie