The Cynster Sisters Trilogy
Three heros, three rescues, three weddings.
The Cynster Sisters trilogy has been a very long time coming. The three daughters of Lord Martin and Lady Celia Cynster, Heather, Eliza, and Angelica, first appeared in Devil's Bride (1998), the first Cynster novel. Subsquently, they've been "maturing" - at least in my mind - and now it's finally time for their stories to be told.
This is a true trilogy - think something akin to Nora Roberts's Blood Brothers/The Hollow/The Pagan Stone trilogy - where each of the books contains a complete romance, but there's also an overarching story, one that starts in the Prologue of the first volume and ends in the Epilogue of the third. In other words, 3 complete romances plus another story that intricately links and runs through all three books. In this case, unlike with my Black Cobra Quartet, the stories run consecutively, one to the next to the next, so no surprises there.
And can I just say...Scotland, Scotland, and Scotland? Each Cynster sister finds herself whisked north from London, and all three love stories play out against various Scottish landscapes, from the Vale of Casphairn where we revist Richard Cynster, his witchy wife Catriona and their brood, to Edinburgh and then a mad dash back and forth across the lowlands, then eventually back over the border to safety with Royce and Minerva at Wolverstone Castle, and ultimately, a grand foray deep into the Scottish highlands where the dark villain behind the plot that has resulted in so much mayhem is exposed and vanquished.
To read more click on the following links to my Interview on each book.
INTERVIEW ON VISCOUNT BRECKENRIDGE TO THE RESCUE
INTERVIEW ON IN PURSUIT OF ELIZA CYNSTER
INTERVIEW ON THE CAPTURE OF THE EARL OF GLENCRAE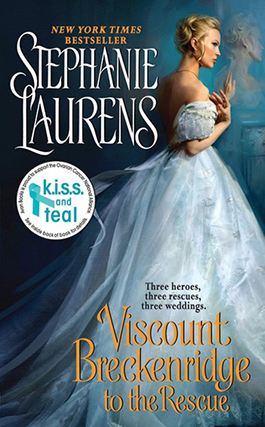 As an Amazon Associate I earn from qualifying purchases.